Do you just love banana bread? I do! LOVE, love, love it...and so does the family. Here is a super-great banana bread recipe that I found on
allrecipes.com.

It is so, so moist. It doesn't even have to sit overnight for the flavors to be amazing! I have made it many times and have substituted the sour cream with both mayonnaise or yogurt when I didn't have the sour cream on hand. Both substitutions worked great.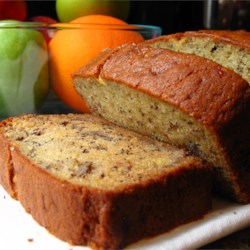 Try it out! I am thinking you will love it too! And thanks, Janet, whoever you may be, for sharing a fantastic recipe with the world!