Sunday, February 23, 2014
Saturday, February 22, 2014
Do you just love banana bread? I do! LOVE, love, love it...and so does the family. Here is a super-great banana bread recipe that I found on
allrecipes.com.

It is so, so moist. It doesn't even have to sit overnight for the flavors to be amazing! I have made it many times and have substituted the sour cream with both mayonnaise or yogurt when I didn't have the sour cream on hand. Both substitutions worked great.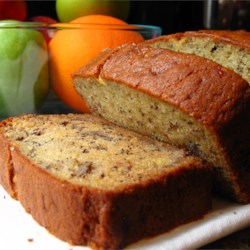 Try it out! I am thinking you will love it too! And thanks, Janet, whoever you may be, for sharing a fantastic recipe with the world!
Posted by

Dakotacrafts
at 2:02 PM
No comments:


Sunday, February 16, 2014
Okay, so I love paper mache. Well, actually I simply love working with paper mache. I think it is so much fun. The entire concept amazes me. Ripped paper, a bowl of goop and "Poof!"...a new creation. The problem is: I haven't found all too many paper mache projects that I really love. I love the art...but the projects...not so much. Except two. I love paper mache sculptures of people and sometimes animals (including dolls), and I sometimes like paper mache bowls. Now happily, I have finally added a third. I enjoy making paper mache bracelets!
Designed/Created & Photos by Dakotacrafts
dakotacrafts.thecraftstar.com
What happened is this: I have wanted to create a paper mache doll/sculpture for several years. When I was a child, I remember a couple of spanish-styled sculpture dolls that my mother had on a shelf. I loved them. I thought they were so creative...and made from paper. Simply amazing.
I have thought about them over the years, but have never actually sat down to try one out. I don't know why. I have made several other paper mache projects. A few I somewhat liked. Most I didn't. I almost gave up on the art completely, but something about it keeps drawing me back. Maybe it's my love of paper. Maybe it's relaxing. I don't know. but I do know that it is pretty fun.
Designed/Created & Photos by Dakotacrafts
dakotacrafts.thecraftstar.com
Recently I had been working on a polymer clay doll. My first ever. In fact, it is really the first time I have ever messed around with polymer clay. I was quite happy with the way it was progressing. I would post a photo, but as horror would have it, one of my dogs decided it would be fun to chew on. Or chew up. Anyway, the night before that happened, I had been planning in my head how I was going to start to make the clothes the following morning. I was debating between the fabric ones like what the tutorial called for...or whether I should go for paper mache. The idea of paper mache clothing intrigued me somewhat. I decided that I would make two. That way I could create them both ways and see which one I liked better.
Upon finding my apparently tasty doll in shreds the following day, I decided that since paper mache was on my mind anyway, I would sit down and play around with it...maybe to get back into the 'paper mache' mode or something.
Somehow or another I decided to re-try the art of paper mache bracelets again. I had tried it before, but couldn't decide if they were cool-looking, or if I just wanted them to be because I had come up with the idea myself.
Anyway, I think I am happy with them this time around as a fun art project:
Designed/Created & Photos by Dakotacrafts
dakotacrafts.thecraftstar.com
And my latest idea...the paper mache wine bottle bracelet..:)
Designed/Created & Photos by Dakotacrafts
dakotacrafts.thecraftstar.com
All of these (and a few more) can be found for sale here. I actually have several more to list, but haven't yet. Most likely I have gotten temporarily distracted and that is why. Yep...I'll go with distracted. That's me!
Posted by

Dakotacrafts
at 12:28 AM
No comments: